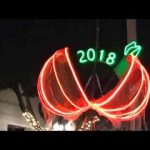 Witness the first ever lighted drone show welcoming in 2019 in downtown Redlands. Following the second annual Orange Drop celebrating the end of one year and the beginning of the next the Redlands of Commerce and the City of Redlands will host the free extravaganza on the corner of State and Orange Streets. Immediately following the Orange Drop the sky will be ablaze with dancing drones, sponsored by Circa 2020, The Crossings and Teamsters 1932.
A light drone show is an ability to experience the night sky in a way we never could before by creating a drone light show.
Rather than the usual gunpowder-powered fireworks show, many events and cities in California celebrate Independence Day with a sky full of drones.
An animated sequence of multicolored lights suspended from drones transforms spectacular shapes all choreographed to music.  The show is a three-dimensional dance for all the audience with more than a billion light combinations in real time.
The images the drones reproduce on the midnight canvas are created using regular 3D modeling applications with specially developed plugins that let the designers see the animations exactly as they'll appear in the sky. The software also has a built-in safety feature that prevents drones colliding; if two drones occupy the same space at once, the designer is alerted so they can fix the problem.
The drones look amazing in motion, but that's not the only thing. Drone Light shows are safer than fireworks in a million ways, they cause less pollution and they are re-usable meaning less waste. Drones are not limited to a single flight like a firework rocket.
It also means displays are more flexible, because of the
programmable nature of the drone show, it's not a one-time show – it can be used over and over again. It doesn't have to be tied to one single annual event. The more you re-use them, the better the economics, and the environment.
Celebrate the New Year in downtown Redlands make your reservations now at one of the many restaurants and bars in Redlands, reserve a ticket at one of the two private parties at the Speakeasy, complete with private parking and a private viewing areas visit the food court at Ed Hales Park and be a witness to the very first Redlands Drone show.
https://redlandschamber.org/wp-content/uploads/2022/04/Chamber-300x75.png
0
0
Redlands Chamber
https://redlandschamber.org/wp-content/uploads/2022/04/Chamber-300x75.png
Redlands Chamber
2018-12-03 17:41:39
2018-12-03 17:43:17
DEC 2018 - Drops and Drones will ring in the New Year in Redlands